Approved by Greene1516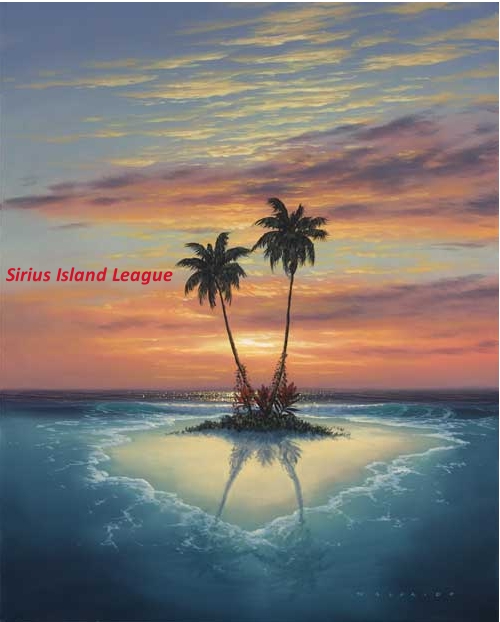 Introduction

Welcome to The Sirius Islands!
For several years the Sirius Islands have been over looked by the world because of its location. Being out of the way from the Orange Islands and Sevii Islands as well. Now for years on end the Guardians have been trying to figure out just how to set themselves apart from the other archipelagos and they've found away. The Guardians, using the Pokemon of their islands and regions, they have have sent invitations to the worlds strongest Pokemon Trainers. Do you have what it takes to defeat us? Do you have what it takes to be the Grand Champion and be immortalized in Sirius Islands history?

Heh......We doubt it!
Rules:
1. No Hacks
(of any kind!!!)
. Guardians, Enforcers, Warriors and Champion Reserve the right to check your Pokemon After the Battle,
So Stay Online!!!
2. Standard Clauses will Always Be In affect:
OHKO Clause: No OHKO Moves allowed
Sleep Clause: No more than one Pokemon
Evasion Clause: No moves or Items that affect Evasion and Accuracy
Hax Items Clause: No Items that Rely on Luck(Quick Claw, Focus Band etc..)
3. Pokemon Tiers(Smogon Tiers[Cresselia remains OU])will be in affect unless specified by Guardian or Warrior.
4.No DC'ing, If their was a DC, Both Parties Must PM me their Sides of the Story, and I will make my decision from that.
I WILL NOT TOLERATE DC ACCUSATIONS, IF ANY ONE IS ACCUSED BEFORE I HEAR THE WHOLE STORY I WILL PERSONALLY DEAL WITH THE ACCUSER!
5.If a challenger breaks a rule the Guardian must PM me about it:
If found out it was intentional, the challenger will be banned indefinitely.
If found out it was accidental, the challenger will be allowed a rematch at the next available time.
6. If a Guardian breaks a rule the challenger must PM me about it:
If found out it was intentional, the Guardian will be suspended indefinitely w/ possible termination.
If found out it was accidental, the challenger will be given an immediate rematch.
7.After every 2 Guardians the challenger must battle a random Enforcer in a special Rules match, in order to continue the challenge.
The Challenger will never have to fight the same Enforcer twice in a challenge.
The Challenger will never have to fight under the same conditions twice in a challenge.
8. Upon defeat of all 8 Guardians and all 4 Enforcers can a challenger start their 4 Warriors challenge.
9. Before the challenger starts their 4 Warriors challenge they must Get a hold of me so we can see your team. Meaning the challenger must use the same team through their 4 Warrior and Championship Run. 4 Warrior members must check the teams after their matches and document everything they see, and no discussing until after the challengers next match.
10. If the challenger loses, they must start the 4 Warriors challenge over again.
11. Guardian teams must consist of the three types they chose matching their theme.
12. 4 Warrior Teams must consist of Two types.
13. Enforcers and Champion teams are non-Type based.
14. Guardian, 4 Warrior and Championship matches are 6-on-6, Lvl 100 Singles(or doubles if specified)
15.If a spot is open and you wish to try out, PM me the form, and I will get back to you asap.
City and Town Guardian Form:
Name:
FC:
City:
Types:
Special Rules/Clause Bending:
Enforcer Form:
Name:
FC:
4 Warrior Form:
Name:
FC:
Types:
Special Rules/Clause Bending:
--------------------------------------------------------------------------------------------------------
Sirius Island League Town and City Gaurdians
Greene1516
FC: 2707-9490-0844
Status:Open
Iron Head Island: An Industrially Strong City, giant factories that use metal and heat to make new items litter the small island. Electricity is constantly being pumped to keep the island going. Only the most skilled at metal making and electricity handling make it here.

SHininGNova
FC:1161-9005-4149
Double Battle
Status:Open
Cloud City: Atop a small mountain on Miro Island sleeps this quiet windy town, The moisture in this area is very pleasant so the water remains very pure in the lake. Legend has it that its so quiet people communicate with their minds and not mouths.

Daiko
FC:2793-9375-8951
Coin Flip decides Doubles or Singles
Status:Open
SunnyVille Beach: The Ultimate Vacation Spot and Gateway to the Sirius Islands League HQ, Aquatica Island. The Sunshine, The Ocean, the Beach, the Palm Trees, Heh, what more could you ask for?

BlackMoonFlower
FC:0517-6727-2313
Status:Open
BlackSand Harbor: Located a few miles from Voltaire City. The soot from the adjacent volcano constantly rains lightly down on the small Harbor, keeping the Sand a permanent Black. the sky is covered by clouds all year Round.

MiZ
FC:4425-7430-6618
NU/UU 1 BL/OU can be used. (after building a team, subject to change)
Status:Closed
Crystal Cave City: a bustling town located near a crystal Mine. Miners spend several hours in the cave mining for the Precious Crystal. Also Located in the Cave is a Fresh Water Spring that holds a very special Secret known only by a select few in the town.

Ckn
FC:1848-7740-8193
Status:Open
Voltaire City: Nestled Deep within the Volcano Mountain of the Hai-Neko Island. Very tall trees and Passing clouds of Soot keep things very dark, most of its inhabitants have never seen the sun. The people of this city are very skilled in the mystic arts.

Phoenix2389
FC:2794-0996-4696
Status:Open
Morning Dew Town: Hidden in the most humid part of the sunspot jungle on Miro Island, The ground and Trees stay wet, as result of a year round Morning Dew. The fruit grows very Fresh here, but be careful picking it, you might find an unexpected Guest....

CrimsonStorm
FC:2063-6919-3894
Teams must have 2 OU's, 2 UU's, and 2 NU's. BL's count as OU, and NFE's count as NU.
Status:Unknown
Frozen Star Mountain: Three years before the construction of this mountain town a shooting star crashed into the top of the mountain, because of this it snows all year round, and strange unseen creatures dwell in the cave near the fallen star. only those who can survive the extreme cold dare make the venture to this Icy Wonderland.


Enforcer Red
Name:
FC:


Warrior 1
Types:Psychic & Poison
Name:Leingodf8
FC:0732 6052 1641
Doubles

Enforcer Blue
Name:
FC:

Warrior 2
Types:Steel & Flying
Name:Ecunami
FC:3739-0389-3418

Enforcer Yellow
Name:Brooke
FC:3137-6032-6509

Warrior 3
Types:Dark & Ground
Name:Darkravenn12
FC:2879-2877-4680

Enforcer Green
Name:Scizor
FC:2364-6867-3617
Warrior 4
Type:
Name:
FC:
SIRIUS ISLANDS LEAGUE GRAND CHAMPION
(BANNER)
FC:
----------------------------------------------------------------------------------------------------------------------
Credit to:
Rogue058(Former co-owner)-He helped me come up with the Idea for this league and did some of the art.
Greene1516(Guardian)-He helped me with the city and town Discriptions as well as some type combos.
BlackMoonFlower(Guardian)-She Made the Banners.
The Challengers- for Challenging us and keeping the league alive, its somewhat up to you guys.[img][/img]
Last edited by Phoenix2389 on Sat Jan 30, 2010 4:39 pm; edited 33 times in total